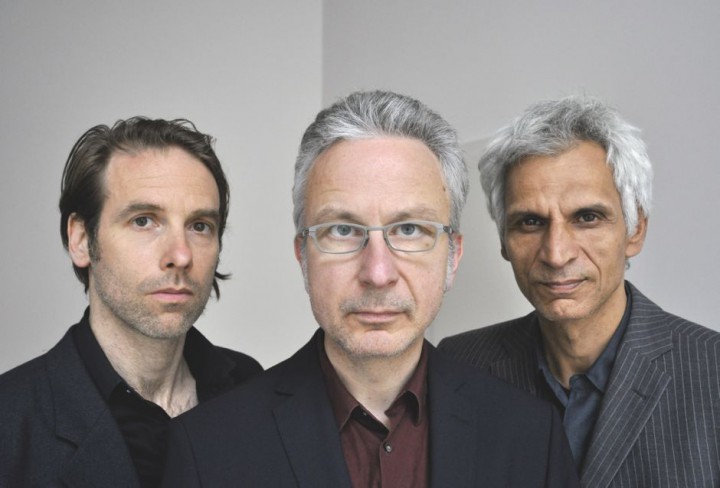 D.R.A. is the power-trio of vibraphoneplayer Christopher Dell. Together with
his colleagues Christian Ramond (bass) and Felix Astor (drums) he takes
the traditional sound of the acoustic vibraphone-trio into the future of tomorrows
forms of contemporary music. The themes, played with enormous vitality, go back and forth
between different meters and tempos, constantly changing gears. This music
is complex, yet sounds very fluent and includes a lot of humour. In the 18 years
years that this trio exists, it has established a very tight groove, dynamic
vitality and yet high abstraction. The concerts have received enthusiastic audiences, reviews and high acclaim.
DRA toured extensively for the Goethe Institute, among others in Brazil, Uruguay, Czech Republic, Mexiko, U.S.A. It received the JazzArtAward in 2002.
"Full of density and truth. "
Hans- Jürgen Linke, Frankfurter Rundschau
"unbelievable."
Dr. Uli Olshausen, Hessischer Rundfunk
"Full of ideas and mastery"
Django Bates
"Drive with power and speed"
Jim Santella, Cadence, U.S.A
"… a strong player, constantly intriguing,…"
Jon Andrews, Downbeat, U.S.A.
Recording Works History:
2001 "Future of the smallest Form", jazz4ever records
2003 "Real", enw records
2006 "Truth Study", enw records
2013 "Typology", enw records
2016 "3rd Critique", enw records
on video:
further press:
Die Arbeit von DRA bezeichnte Tim Gorbauch in der Frankfurter Rundschau als "eine Art Quantensprung im europäischen Jazz. Eine derart komplexe, präzise, in ihren vertrackten Tempo- und Rhythmuswechseln schier aberwitzige Musik gab es vorher nicht, die Schnittmenge zwischen den Möglichkeiten Neuer Musik und freiem Jazz war neu definiert."
"Zwischen Kontrolle und kurzen Phasen der Entfesselung bewegt sich diese Musik, zwischen Ordnung und kreativem Chaos. Eine hochkonzentrierte Mischung, die den Zuhörer eine knappe Stunde lang in Atem hält." Darmstädter Echo
"verdichtete Gebilde, von einer unabweisbaren Fließbewegung getragen (…) klar, überraschend und ungemein raffiniert"
Hans-Jürgen Linke in Jazzthetik
"Eine Leichtigkeit, für die das Wort 'flow' schon fast schwerfällig anmutet"
Wolf Kampmann in Jazzthetik
"Überzeugt bei aller Komplexität auch mit Spielfreude, Lockerheit und Humor."
Heinz Kronberger in drums&percussion
"Hibbelig und frei und doch kalkuliert und logisch."
Werner Stiefele in audio
"kristalline Schönheit"
concerto
"bewundernswert das engverflochtene und sensible Zusammenspiel der Akteure … Hörgenuss garantiert." Udo Andris, Jazzpodium