Conceptual Research on Architecture and Music
curated by Christopher Dell
stream on Tuesday, 20. April, 18.30 Uhr
disseminated on the platforms of Aedes Architecture Forum
as part of the exhbition HUMAN SCALE REMEASURED
curated by ANCB The Aedes Metropolitan Laboratory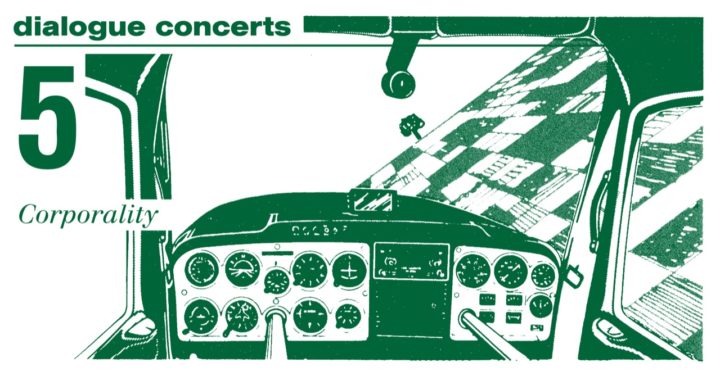 Hardly any other topic is as popular today as that of the body. Every day, we are concerned with the presentation, the dressing up and the dressing down of bodies. Bodies are the medial interfaces with which social practices become visible and perceptible – as well as the normativity embedded in them. In particular, what is at stake is the sensuality of the body – corporeality. But what is to be understood by it today? And how would the city be rethought if no corporeality were representative? Wouldn't the diversity and heterogeneity of corporeality then come into view anew?
Lecture
Christopher Dell Komponist, Stadttheoretiker, Berlin

Concert
Christopher Dell Streichquartett No. 2
Christopher Dell Formblock 32 a), b)
ensemble mosaik
Chatschatur Kanajan Violine, Berlin
Sarah Saviet Violine, Berlin
Karen Lorenz Viola, Berlin
Mathis Mayr Violonchello, Berlin
recorded and mixed by Lukas Kowalski at Emil Berliner Studios, Berlin
Discussion
Sarah Saviet ensemble mosaik
Mathis Mayr ensemble mosaik
Tabea Michaelis denkstatt, Basel
Ben Pohl denkstatt, Basel
Christopher Dell Komponist, Stadttheoretiker, Berlin
Ausstellung
Die Veranstaltung findet in der Ausstellung HUMAN SCALE  REMEASURED statt.
Dialogue Concert Series
#1 Medialität mit Oda Pälmke
12. Dezember 2019
#2 Interaction mit Christophe Hutin
6. Februar 2020
#3 Transformation mit Daniel Libeskind (vertagt)
#4 Structure mit Bernd Kniess
17. September 2020
#5 Corporality
20. April 2021
Dialogue Concerts
Die Reihe Dialogue Concerts. Conceptual Research on Architecture and Music präsentiert zum 40-jährigen Jubiläum des Aedes Architekturforums ein medienpluralistisches Format das die Erforschung des Städtischen neu in den Blick nimmt. Architektonisches Arbeiten tritt in den Dialog mit der Praxis der Musik.
Angelegt als Montage von Vortrag, Konzert und Diskussion untersucht Dialogue Concerts an sechs Veranstaltungen, wie der Stadtraum unser Miteinander bestimmt. Hier ist Stadt nicht als fixiertes Objekt definiert, sondern als dynamische und kollektive Konstellation, die performativ produziert wird.
Kuratiert vom Vibraphonisten, Komponisten und Stadttheoretiker Christopher Dell tritt Dialogue Concerts als künstlerische Aussage sowie als kritisches Dispositiv auf. Von Dezember 2019 bis November 2020 sind internationale Architekt*innen und Musiker*innen eingeladen, in sechs Dialogue Concerts prozessorientierte Zusammenhänge über Disziplingrenzen hinweg zu thematisieren. Ausgehend von Fragen der Medialität, Körperlichkeit, Interaktion, Materialität, Struktur und Transformation entfaltet Dialogue Concerts einen diskursiven Raum, der die gesellschaftliche Relevanz beider Disziplinen auf neue Weise sichtbar zu machen sucht.
Die Reihe Dialogue Concerts wird veranstaltet von Christopher Dell in Kooperation mit dem Aedes Architekturforum, gefördert von der Senatverwaltung für Kultur und Europa sowie vom Musikfonds e. V. mit Projektmitteln der Beauftragten der Bundesregierung für Kultur und Medien.