3. Juni 2023, 17:00 bis 23:00 Uhr
4. Juni 2023, 16:00 bis 22:00 Uhr
Orangerie Theater, Volksgartenstraße 25, 50677 Köln
On 3 and 4 June 2023, the first DLW Festival will take place at the Orangerie Theatre in Cologne's Volksgarten. It presents artists and ensembles such as the singer and voice artist Sofia Jernberg, the pianist Tamara Stefanovich, a mixed quartet from Klangforum Wien and the hosts from the
Ensemble Dell-Lillinger-Westergaard.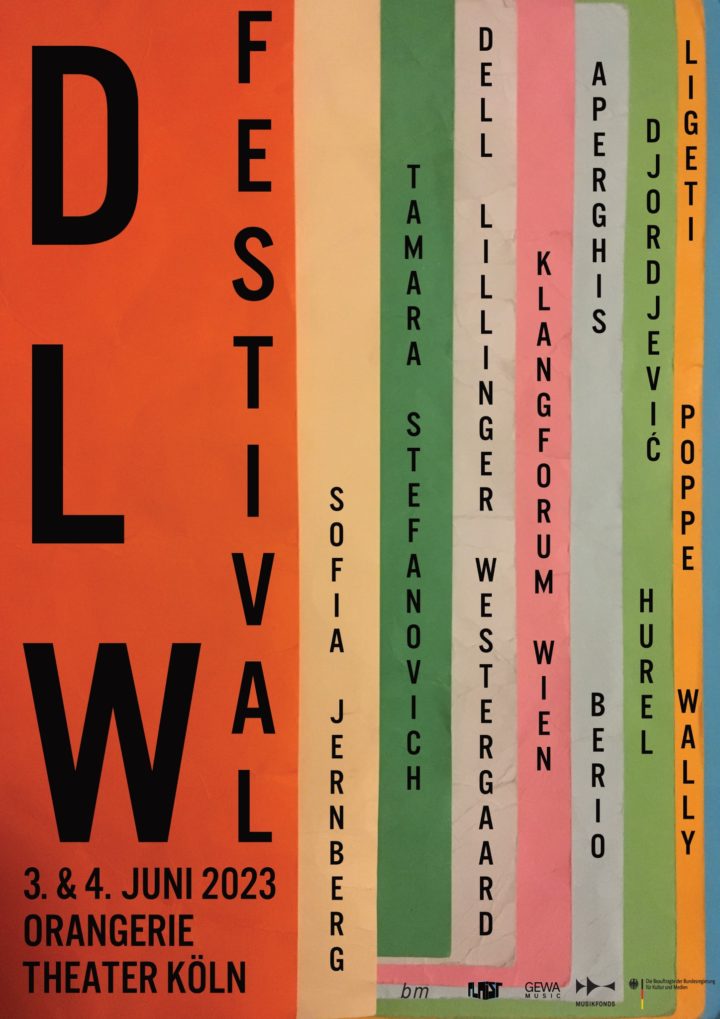 Over the course of two days, the multi-faceted programme offers numerous concerts of contemporary music by, among others. Aperghis (world premiere), Berio, Djordjević, Hurel, Jernberg, Ligeti, Poppe, Sørensen, Stefanovich, Wally (German premiere) and Dell-Lillinger-Westergaard (world premiere).
In addition, there will be discussion rounds with
participants on topics such as "Composition vs. Improvisation?
music" and a reading by Gregor Dotzauer, author of "Schläft ein Lied in allen Dingen". In the
the Orangerie Theatre, the audience is invited to talk with and among themselves – over refreshing
and with each other over refreshing cold drinks and selected food.

Musik von Aperghis, Berio, Dell, Djordjević, Hurel, Jernberg, Ligeti, Lillinger, Poppe, Sørensen, Stefanovich, Wally, Westergaard u.a.

Sofia Jernberg (Stimme, Komposition)
Tamara Stefanovich (Klavier, Komposition)
Dell-Lillinger-Westergaard: Christopher Dell (Vibraphon, Komposition), Christian Lillinger (Schlagzeug, Komposition), Jonas Westergaard (Kontrabass, Komposition)
Klangforum Wien: Gerald Preinfalk (Saxophon), Mikael Rudolfsson (Posaune), Gunde Jäch-Micko (Violine), Anna D'Errico (Klavier)
Gesprächsrunden und Lesung: Michael Struck-Schloen, Leonie Reineke, Gregor Dotzauer u.a.

Produziert von Dell-Lillinger-Westergaard und bastille musique. Gefördert vom Musikfonds mit Projektmitteln der Beauftragten der Bundesregierung für Kultur und Medien. In Kooperation mit Gewa Drums und Piano Duo.


Samstag, 3. Juni 2023, 17:00 bis 23:00 Uhr
17:00 Uhr: Einlass in den Garten des Orangerie Theaters, Bar und Bewirtung im Garten geöffnet
18:00 Uhr: Konzert 1 – Sofia Jernberg
Äthiopische Lieder: Adwa und Gigi's Lament (in Fassungen von Sofia Jernberg)
Sofia Jernberg: One Pitch – Birds for Distortion and Mouth Synthesizers (2015)
George Aperghis: Récitations 1-4 (1978)
18:30 Uhr: Konzert 2 – Sofia Jernberg und Dell-Lillinger-Westergaard
Sofia Jernberg und Dell-Lillinger-Westergaard: Neues Werk (2023) *Uraufführung*
19:15 Uhr: Konzert 3 – Dell-Lillinger-Westergaard
Dell-Lillinger-Westergaard: Beats II (2022-2023)
20:30 Uhr: Gesprächsrunde I – Freiheit und Struktur in der Neuen Musik
mit Leonie Reineke, Gregor Dotzauer, Christopher Dell und Tamara Stefanovich
21:30 Uhr: Konzert 4 – Tamara Stefanovich und Dell-Lillinger-Westergaard
SDLW: Montbrison, Beograd I, Kuschkow, Hvidovre, Darmstadt (2021)

Sonntag, 4. Juni 2023, 16:00 bis 22:00 Uhr

16:00 Uhr: Einlass in den Garten des Orangerie Theaters, Bar und Bewirtung im Garten geöffnet
16:30 Uhr: Konzert 5 – Klangforum Wien
Luciano Berio: Sequenza V (1966)
Philippe Hurel: Loops II (2001)
Enno Poppe: Thema mit 840 Variationen (1993-1997)
Bent Sørensen: The Bells of Vineta (1990)
darin eingebettet: Lesung von Gregor Dotzauer aus Schläft ein Lied in allen Dingen (2022)
18:00 Uhr: Konzert 6 – Dell-Lillinger-Westergaard
Dell-Lillinger-Westergaard: Grammar III (2022-2023)
19:00 Uhr: Gesprächsrunde II – Komposition vs. Improvisation?
mit Michael Struck-Schloen, Christian Lillinger, Gunde Jäch-Micko und Gerald Preinfalk
20:00 Uhr: Konzert 7 – Klangforum Wien und Dell-Lillinger-Westergaard
Milica Djordjević: umeš li ti da laješ? / do you know how to bark? (2010)
Thomas Wally: Soliloquy IV: Fais ton jeu! (2020) *deutsche Erstaufführung*
Georges Aperghis: Kintsugi (2022) *Uraufführung*
Dell-Lillinger-Westergaard: Axiom I (2023)