feat. Christopher Dell & Lars Göran Ulander (DK/SE/DE)
8 July
From the already vibrant scene of Copenhagen rises a group extraordinaire! A quintet led by Kresten Osgood, one of the busiest and finest European improvising drummers, featuring hand picked selection of the most prolific younger generation improvisers from the local scene. The outcome is ballistic! Their album is as straight forward as it's name suggests, Kresten Osgood Quintet indeed plays jazz, interpreting a wide selection of less known tunes from Dolphy, Monk, Mingus, Ellington, Davis, Jerome Cooper, Elmo Hope, and a few Osgood's originals. And they play jazz in the truest spirit of the legends mentioned above – full of the forward pointing character, taking a lot of chances, balancing with the perfect taste between what these tunes are (tradition) and the individual qualities of the performers' personal voices (future). Here's an album for fans of standard jazz and avant-garde aficionados alike. Here's a new direction, a fresh rendition of and for jazz.
Christopher Dell is a Berlin based composer and instrumentalist working with a multidisciplinary approach to musical composition, its representation, its performance and the concert situation, resulting in works at the intersection of the genres of music, performance, installation, urban design theory and architecture. In 2001 he founded the Institute for Improvisation Technology and in 2001 he founded the artist's label edition niehler werft.
Lars-Göran Ulander (SE):
Although his original influence was Art Pepper, Swedish altoist Lars-Göran Ulander plays free jazz. His tone is distinctive (sounding a little like Eric Dolphy, although he does not play the giant interval jumps), his ideas are stimulating, and he interacts well with bassist Palle Danielsson and drummer Paal Nilssen-Love on these generally intense free improvisations. While Charles Mingus' "What Love" and Ulander's "J.C. Drops" initially utilize some structure, they also become long jams for the trio. It is a measure of the three musicians' skills that the five lengthy performances stay consistently interesting and creative without becoming a vamp or adopting a recognizable melody. Ulander, who has recorded since 1963 but had not led a record date before this one, deserves to be much better known.
Line up:
Kresten Osgood (trommer)

Erik Kimestad (trompet)

Mads Egetoft (tenorsaxofon)

Jeppe Zeeberg (klaver)

Matthias Petri (bas)

Christopher Dell (vibrafon)

Lars-Göran Ulander (sax)
review by Jan Granlie for salt peanuts:
"This evening Osgood had invited two guests, something he rarely does with this quintet. But here we heard German vibraphonist Christopher Dell and Swedish veteran saxophonist Lars-Göran Ulander, two musicians who fit perfectly into the quintet's interpretations of some of Osgood's jazz favourites from the past 50-60 years. We got more or less familiar sounds, with Charles Mingus, "Fables au Faubus", and the closing song, Johnny Dyani's "Magwasa" (I think it was), from Dyani's excellent 1978 album "Witchdoctor's Son as my personal favourites, and in between the songs Osgood did a "talk show" about two, old, Danish figures, I didn't know the background or history of. But it didn't matter. Osgood was in great form, as were the other musicians, especially Dell, who delivered some gunshots of vibraphone solos, and Ulander's solo in the Johnny Dyani song, which suggested anything but that the good Swede is 79 years young. And although we would have liked to hear more of Zeeberg's mad crack and madness, the whole thing was a blast from start to finish."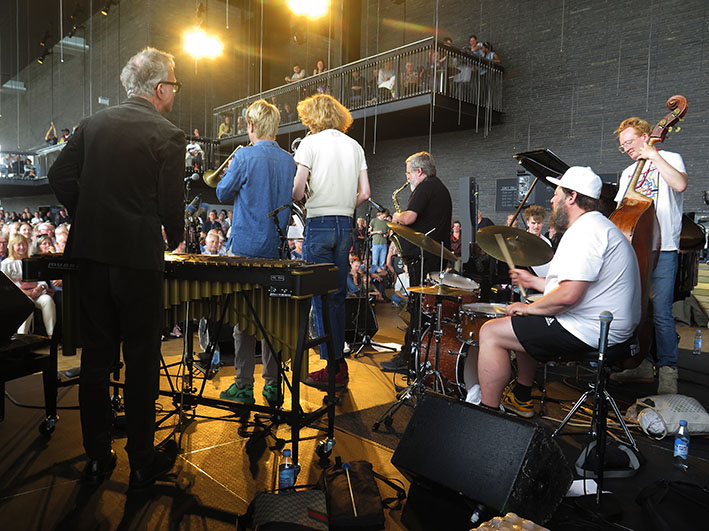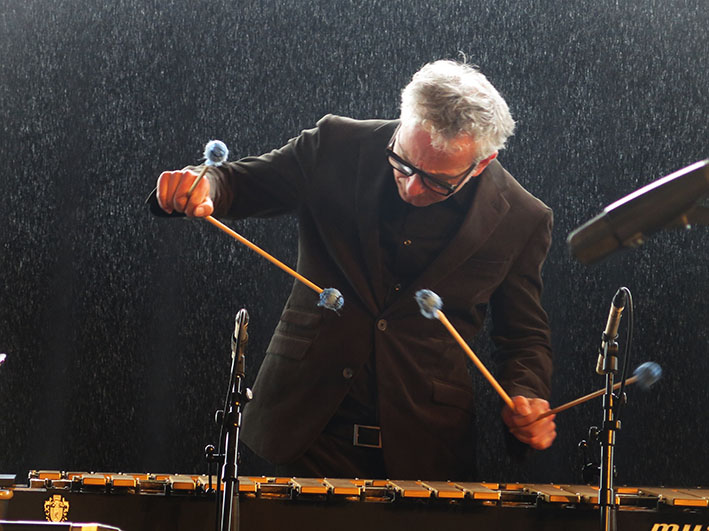 photos: Jam Granlie