On the 3rd of March 2018 the world premiere of my composition "lichtspiel" took place at the Kurt Weill Festival Dessau. The work was commissioned by the Deutsche Musikrat on the occasion of the 100th birthday of Bauhuas in contextualization with Lazlo Moholy-Nagy's famous movie "Lichtspiel. Schwarz-Weiß-Grau". The work was performed as a performative installation with the movie by the formidable Bujazzo Ensemble with the great conductor Niels Klein.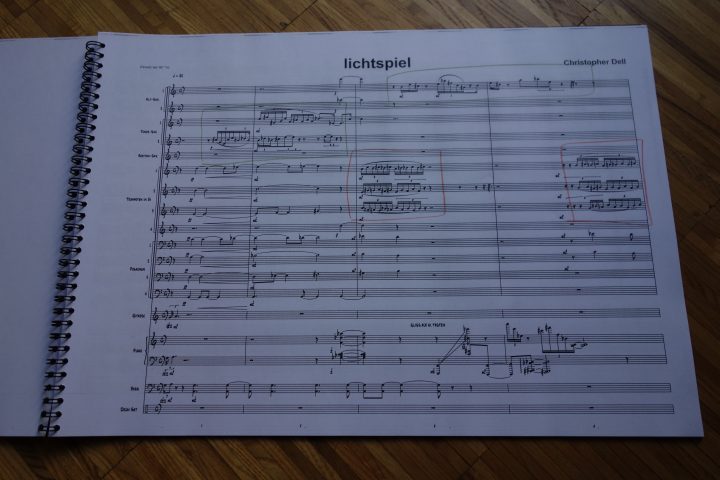 A text "Image of a composition" was written by me as a contextualizing folio of the work:
"My composition "lichtspiel" is a meta-collage, a hybrid of two personalities. Seen through my conceptual lens, the work of Moholy-Nagy becomes the driver to rewrite my personal interpretational relation to, and conceptualisation of, the image of a composition. As characteristic of Moholy-Nagy, my work also signifies research that works on the epistemology of indeterminacy and error. By transposing his installative procedures to music, I take on his project, thereby reframing what composition or improvisation could signify. Inspired by Moholy-Nagy, the work "lichtspiel" wants to be an experiment that evokes and provokes new modes of improvisation. It asks: What is a representation? What is a medium? What is a composition? Relating to the work of Moholy-Nagy has allowed me to step out of the usual format of composition, redefining it as an assemblage that is put together from different materials as a construction of open form. As in the case of the assemblage Lichtrequisit and the movie Lichtspiel, the composition "lichtspiel" is not about the fixed nor the beautiful, but about the understanding of an art form and the experiences of transformation that it enables."
from:  Dell, Christopher: Image of a Composition, Berlin 2018
Thanks to Niels Klein, Robert Landfermann, Dominik Seidler and all the fantastic players of the ensemble!