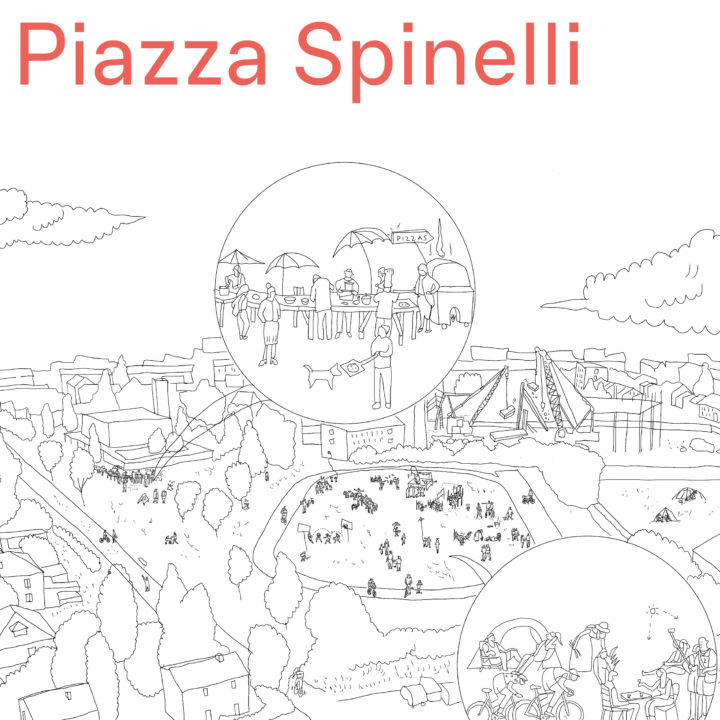 Piazza Spinelli
Urlaub in Käfertal

Guest project of the Heidelberg International Building Exhibition 2022.
A space for action that shows itself: under the motto "Holiday in Käfertal", the Spinelli FreiRaumLab invites visitors to the Piazza Spinelli from May 4 to July 10, 2022. The Piazza Spinelli a performative installation and exhibition project dedicated to initiating and exploring urban coexistence, space sharing and knowledge exchange – a prototype of future urban development.
With the open-air exhibition, which points out 30 distinctive places in Käfertal, and with the collaborative formats on the square, Piazza Spinelli connects everyday practices such as gathering, building, playing sports, cooking, dancing or drinking coffee with lectures by international experts in urban development in a variety of ways. The goal of Piazza Spinelli is to create a new cooperative methodology across disciplines and institutions to deal constructively with existing urban situations.
As places of vacation, Piazza Spinelli and Käfertal are open spaces that change and are worth loving and exploring. The actors on site, openness and dialogue are the keys to creating the form and content of the performative installation.
Generally, one thinks of Käfertal as a quiet residential area and residential building islands, but also entrance and exit roads, DIY stores or leisure centers – vacations are usually taken elsewhere: where one assumes historic city centers, monuments or nature experiences. With the Piazza Spinellisoll this ideology of perception is to be questioned anew.
Vacation means "to have free time". According to the dictionary, vacation is "official temporary leave of absence from an employment relationship", more generally "days off from service or work that serve for recreation". Furthermore, by vacation we mean doing something "different," stepping out of familiar paths, being curious.
Piazza Spinelli therefore also uses the term in a metaphorical sense. The installation invites to a vacation from the prejudice or the expected. "Vacation in Käfertal" means entering a situation where we can engage in new readings of the city and leave preconceived notions at home.
Lined with the Heidelberg International Building Exhibition in 2022 and the Mannheim Federal Garden Show in 2023, Piazza Spinellisaddressed both to the general public and to those who work professionally in urban development, whether from an administrative, communications, or academic perspective. The fact that Käfertal was incorporated into the city of Mannheim exactly 125 years ago is also an occasion to reflect on current developments.
The Piazza Spinelli is located at, in and around the Spinelli FreiRaumLab. Anchored there, it is both: an interface between different built structures and green spaces as well as an activating plug-in structure that mediates between local actors and the international urban planning discourse.
Program
On April 30, the joint construction of furniture for the Piazza Spinelli at the Church of St. Hildegard started. The construction activities were led by Axel Timm, member of raumlabor, an architectural-artistic collective from Berlin.
The open-air exhibition will hang in the Käfertal urban space from May 4 to July 10. With a "travel guide" that can be obtained at Piazza Spinelli or downloaded online, the journey of discovery can begin. But people will also come across the posters by chance – while shopping or taking a walk. The curatorial team was supported in the development of the content by Käfertaler Geschichtswerkstatt e.V..
In addition to hula-hoop workshops and choir singing, ecumenical church services and many other activities that are currently being developed and imagined, professional inputs and events complement the program at Piazza Spinelli.
in Christopher Dell News Journal:
work archive performative installations
Curation Piazza Spinelli and exhibition "Holiday in Käfertal
Sally Below, sbca, Berlin/Mannheim / Christopher Dell, ifit, Berlin
on behalf of the Mannheim City Planning Office,
Conversion Project Group
Coordination Jens Weisener
spatial installation
Axel Timm, raumlaborberlin
drawings
Maria Garcia Perez, Madrid
exhibition conception, research, texts and editing "Urlaub in Käfertal
Moritz Henning, Berlin