Sunday, 21 March 2010
A lecture by Yoshiharu Tsukamoto – Atelier Bow Wow, Tokyo followed by a conversation led by Matthias Sauerbruch and Christopher Dell.
in cooperation with the Japan Foundation
This event takes place during the Units of Ecole Special d'Architecture, Paris and University College Dublin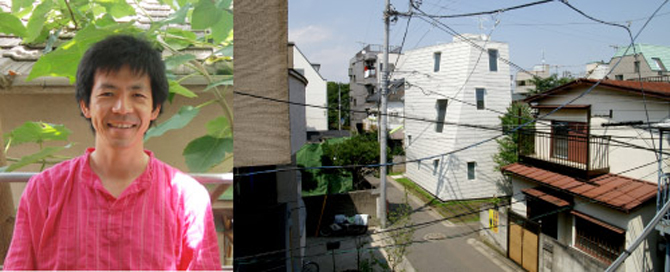 "Behaviour comes to mind as a recurrent theme in our interests as we strive to create livable, viable and enjoyable spaces, all the while addressing the concerns of architectural expression, architectural dimension and their complex relationship to capital and generational change. The concept of behaviour need not apply solely to human beings: it could be central to a hypothesis for understanding the correlations between human life, nature, and the built environment. Architectural Behaviourology attempts to place architecture and urban space in a position where these three categories are effectively synthesised." Yoshiharu Tsukamoto -Atelier Bow Wow
Architect Yoshiharu Tsukamoto co-founded Tokyo-based practice Atelier Bow-Wow with his partner Momoyo Kaijima in 1992. This practice has gained international recognition both for its architecture projects and its urban research projects as documented in the books 'Pet Architecture Guidebook' and 'Made In Tokyo'.  In addition to his practice, Yoshiharu Tsukamoto is an associate professor at Tokyo Institute of Technology, and has been a visiting faculty at Harvard GSD and UCLA. He is currently Commissioner for the Japanise Pavillion at the Venice Archietcture Biennale. Link to Atelier Bow-Wow website www.bow-wow.jp/
Matthias Sauerbruch (ANCB Advisory Board) is -together with Louisa Hutton- founding partner of the Berlin-based architecture agency of sauerbruch hutton, well-known for their work in Germany and elsewhere; they both regularly teach studio at Harvard's GSD. He has a strong interest in the mutually influential relationship of behaviour and architectural space, particularly in the context of ecological reform.
Christopher Dell (ANCB Executive Board) is a theorist and composer. At the moment he is visiting professor for urban design theory at HafenCity University, Hamburg, where he is head of the MetaLab, Studio for Applied Theory. His interest is concentrated on agency, praxis and organisation of urban life. His institute for improvisation technology (ifit) works in cross-disciplinary constellations on the exploration and conceptualization of relational action.